Yes! I want to show my support for CHALK4PEACE
and get an awesome shirt in the process!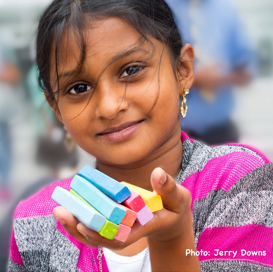 Once again we are offering a fine quality Gildan Ultra Cotton T for a contribution to CHALK4PEACE of only $27.00! A donation of $100 gets you four shirts!
Dress for peace in this beautiful image (shown above) by the renowned photographer, Jerry Downs, taken at our signature event at the United Nations last year!
Show everyone you're an official CHALKSTAR that supports CHALK4PEACE!
We're dedicated to drawing the world together. C4P encourages people to gather on sidewalks, streets, parking lots, plazas and piazzas to share messages of peace and hope in art with chalk. To bring peace to the world one sidewalk at a time. And if everybody's wearing one of these shirts, the world will surely think it's a movement. Thank you for believing in CHALK4PEACE. Fly the C4P colors.
Help PEACE break out. Everywhere!
Please include shirt size(s) and your address. For a limited time, shipping is included. Please allow 4 weeks for delivery.